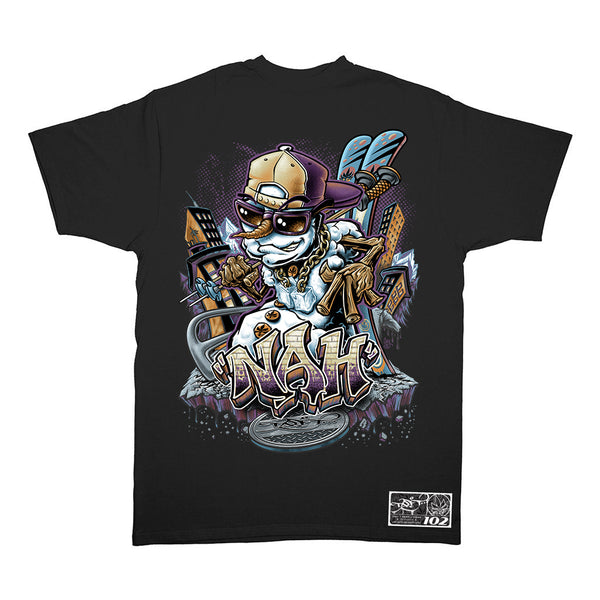 Tall T x Noah Albaladejo - NAH Snowman - Black
$ 35.95
This Noah Albaladejo collaboration shirt is a unique and eye-catching piece that seamlessly blends elements of hip-hop and street skiing with a touch of humor and homage to the iconic rapper, Young Jeezy.
Design: The shirt features a crisp, high-resolution graphic screen printed on the front. The design depicts a vibrant, urban scene at the handrail. In the foreground, a stylized snowman donned in hip-hop attire effortlessly navigates the streets with a pair of skis. The snowman exudes coolness with a confident carefree expression paying a nod to the rapper Jeezy.
Color Palette: The color palette used for the art is bold and striking. The snowman and urban landscape are depicted in a combination of vibrant and contrasting colors. Such as electric blue, deep purple, and rustic orange adding pops of color and intricate details to the design.
Collaborative Branding: The shirt proudly features the art of both Tall T and Noah Albaladejo "NAH", showcasing the collaborative effort between these two creative forces. This collaboration effortlessly merges the worlds of hip-hop, street skiing, and urban art making it a must-have for enthusiasts of Tall T and Noah. It's a unique and bold fashion statement that pays tribute to Noah Albaladejo and Young Jeezy. We salute you for your support!
Tall T Original Custom Cut T-Shirt

100% Cotton

Silk Screen-Print
Size Guide: