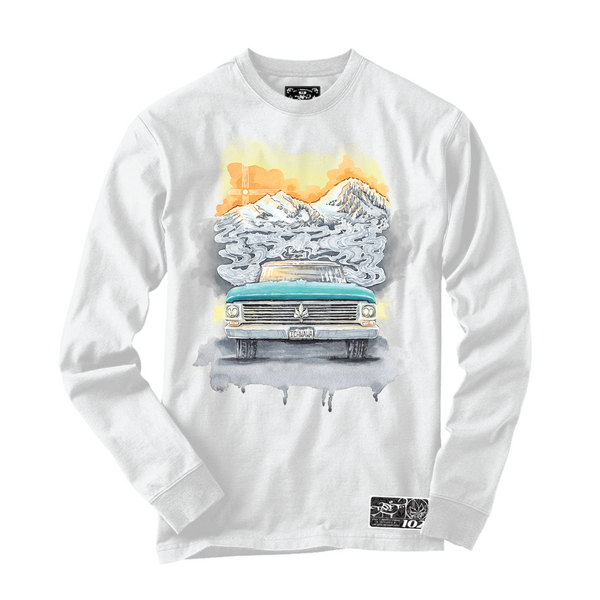 Long Sleeve - Ichwawa - White
$ 39.95
Signature Series
This one goes hard! A watercolor painting by Jacob Lutz is screen printed on Jaron Stadler's signature tee featuring a stunning scene that captures the beauty of New Mexico's mountains and pays tribute to Jaron's truck lchwawa.
In the background of the painting, we see the majestic Sangre de Cristo mountain range, rising up in the distance and bathed in warm golden light. The mountains are depicted with soft, fluid brushstrokes that capture the rugged beauty of the landscape.
In the foreground of the painting, we see Jaron's 1968 Ford F100 truck parked on a snowy road, its gleaming turquoise and white exterior contrasting with the muted tones of the landscape. Ichwawa is the focal point of the painting, with its iconic design and classic lines evoking a sense of nostalgia and Americana.
The painting is filled with intricate details, from the textures of Ichwawa to the subtle shading of the mountains. The colors are rich and vibrant, which creates a sense of depth and warmth. Snag one soon because these will go quick!
Tall T Original Custom Cut Long Sleeve Shirt

100% Cotton - 230gsm 

High-Quality Screen-Printed Art
Signature Tall T Hip Tag
Sewn-in Neck Tag
Sizing:
96 - Large
Width: 21" Length: 30" Sleeve: 30.5"
-
102 - XL Tall
Width: 22.5" Length: 34" Sleeve: 31"
-
108 - 3XL Tall
Width: 26.5" Length: 37.5" Sleeve: 34"
-
Team - 5XL Tall
Width: 27" Length: 39" Sleeve: 34"
Width is measured from under the sleeve and across the chest.

Length is measured from the top of the shoulder to the bottom.
Sleeve length is measured from the top collar seam to the end of the cuff.